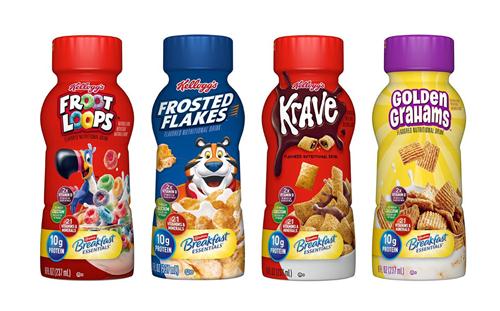 Nestlé Health Science has collaborated with Kellogg's and General Mills to add a variety of new cereal-flavoured beverages to its Carnation Breakfast Essentials line.
For more than 50 years, Carnation Breakfast Essentials has offered convenient nutrient-packed beverages as a breakfast option for families, in an attempt to meet daily nutritional needs.
Available in the US, the new flavours include Kellogg's Froot Loops, Krave and Frosted Flakes, as well as General Mills' Golden Grahams.
The drinks are packed with the same protein, vitamins and minerals as the original Carnation Breakfast Essentials line for immune support and to help build strong bones. Each 8fl oz bottle contains 10g of protein and 20% or more of the daily value for 21 vitamins and minerals, including calcium, vitamin D and vitamin C.
"We are excited to collaborate with these iconic brands to bring new and exciting flavours to the Carnation Breakfast Essentials Nutritional Drinks portfolio," said Abigail Buckwalter, vice president of marketing at Nestlé Health Science USA.
"It's especially important for growing kids and teens to get the protein, vitamins and minerals they need. And, if it tastes great, even better," she added.
Carnation Breakfast Essentials' new Froot Loops, Krave and Golden Graham flavours are available in ready-to-drink packs of six exclusively at Walmart stores nationwide for an RRP of $6.74. Meanwhile, the Frosted Flakes variety will be available in June 2021.
Original link :http://www.dezevier.com/news/detail75584.html